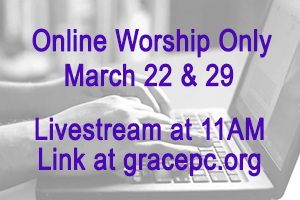 In light of the COVID-19 situation, we are moving our worship to online for the next two Sundays, March 22 and 29. The church buildings will not be open on Sunday mornings. We pray that this action will help reduce the risk of transmitting the virus and keep our congregation healthy.
We invite and encourage you to worship with us via Livestream on Sunday mornings at 11am. The link can be found on the website. Archived services can also be found on the website.
In addition, we are cancelling/postponing all church activities through April 1, 2020. The pastors, Health Task Force, and session are monitoring the situation daily and will continue to communicate about the life and activities of Grace. The church office is closed, and staff is working remotely as possible.
We are saddened that this means delaying our 40th anniversary celebration and farewell to Pastor Jim gatherings. Please watch for those to be re-scheduled when we can safely all gather to celebrate.
The Day School follows PISD for all closures and is thus closed through April 3.
Your deacons and prayer team are active and here to support you. Online prayer requests can be submitted via the website. The Deacons are managing a support system. If you are in the at risk group, and would like some help taking care of errands which would require you to be out in public, click on the link in the blue box on the website and fill out the form. If you are healthy, and not at risk, and would be willing to help our at risk members, you need to click on the link in the yellow box and fill out the form. The Deacons will pair you up.
Your continued support and encouragement help ensure the ongoing health and vitality of Grace. As 2 Timothy tells us, "For God has not given us a spirit of fear and timidity, but of power, love, and self-discipline."
BELOW ARE SOME TIPS TO HELP PREVENT THE SPREAD OF COVID-19:
Stay home when you or any member of your family is sick
Wash your hands frequently with soap and water for at least 20 seconds. If soap and water are not available, use a hand sanitizer with at least 60% alcohol.
Cover your mouth with a tissue when you sneeze or cough, then throw the tissue away in the trash can.
Avoid touching your eyes, nose, or mouth
Clean and disinfect objects and surfaces in your home that you touch frequently.
Reported illnesses have ranged from mild symptoms to severe illness and death for confirmed Covid-19 cases. Those at higher risk of getting very sick from this virus include adults over 60, and people with chronic medical conditions such as heart disease, diabetes, lung disease or immune compromised conditions.
The following symptoms may appear 2-14 days after exposure:
If you think you have been exposed to Covid-19, contact your health care provider.
For More Information Visit the Following:
Centers for Disease Control & Prevention (CDC)
World Health Organization (WHO)