Stewardship 2021
Our 2021 stewardship effort is themed United in Grace and is a chance to promote healing and unity in a world sorely in need.
Like a family, our history at Grace Presbyterian Church is full of ups and downs: periods of heady growth and periods of stagnation, interspersed with periods of calm.
Through all the ups and downs, the church still met the needs of congregants. We always found the funds to do what needed to be done.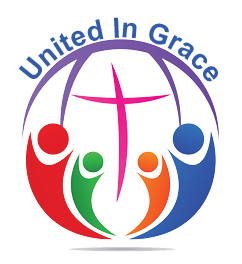 Let's Reset
One could compare our situation now to hitting a giant RESET button.
We have nice facilities, minimal debt, a committed and enthusiastic new pastor, members anxious to gather in person again, and – maybe most importantly – a community and a world in need of healing and unity. We have staff vacancies to fill and a chance to reimagine ministries. Grace Presbyterian Church can be a place of healing and unity.

How Can You Contribute?

We ask each of you to consider your commitment in 2021 as a symbol of unity and healing. We need your time, your talents, and yes, your money to make this happen. Please return your pledge card to the church office, attn. John Moody, as we will dedicate the pledges to God's glory and purposes in worship on February 7.
Why Pledge?
The pledge is a symbol of commitment. It is an act of worship, indicating that we are giving God the first fruits off the top. It also gives staff and Session guidance in formulating a budget. Since we delayed the stewardship effort, we ask that you continue to give this month so our ongoing ministries may move ahead in 2021.
We understand and applaud the desire to give to other charities. Please consider the unique ways the church and God can bring healing in ways other charities can't.
We also understand that we have members hit hard financially. We ask only that you give what you can. We believe participation at any level is important.
(
all pledges are confidential and can be altered as

circumstances

change)
Mail:
GPC is mailing pledge cards to each family. Please complete
the

pledge card and mail it back to the

church

. If you can't find the card, you may print a new one from the link on this page.
Presentations/Testimonies/Pledge Card
Finally, all of you, have unity of spirit, sympathy, love for one another, a tender heart, and a humble mind. 1Peter 3:8